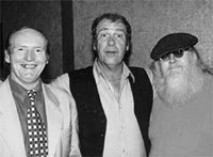 John Crowley finds out how a small advertisement placed in The Irish Post turned into a documentary film.

It is over a year now since budding film director Jaap Mees placed an advertisement in The Irish Post looking for a documentary narrator.
Jaap, no stranger to the world of celluloid, had already made a number of notable short films. Subjects included a London Transport bus conductor who serenaded his passengers with reggae songs, a sitar player who strummed his time away in a Covent Garden shop and a bagpipe player who had been prosecuted by the police — for playing his pipes in Hampstead Heath of all places!
Always on the look-out for inspiring, human interest stories, Dutch-born Jaap recalls how he was taken aback by the traditional music of Ireland on a visit to the country.

"I was on holiday in Galway sitting in a pub with my girlfriend and I thought that there was a tremendous opportunity to make a good documentary film."
All Jaap needed was a story and a narrator. An advertisement was despatched to the Post and soon the 41-year-old had found his ideal subject among the "six or seven" replies he received. Midlands-based musician Billy Barton's tale stood out a mile.

"Billy told his story about his father and [how] their whole life was spent in music. He was so enthusiastic, that was why I went for him even though I had never met him before," Jaap recalls.

Hooked by their story, Jaap decided to accompany Billy and his two brothers, Tommy and John, on a sojourn back home to Dublin. From that journey was born Off The Beaten Track, a low-budget, self-funded documentary film.
Its story is an emotional one. The three brothers, all players and singers in a traditional band The Dublin Rogues, were embarking on a pilgrimage back to their home town of Dublin. Their father, Tommy Barton Snr, a banjoist of great distinction, played the streets of the Irish capital in the '50 and '60s.
Known as 'The Gentleman busker', Tommy Snr, who died in 1972, taught Dubliners band member Barney McKenna and was a contemporary of Ronnie Drew. He was also a close pal of Teddy Furey, father of the Furey brothers.
His legacy hangs over his three sons like a pall. In between comments from Finbar Furey, Drew and McKenna, a jigsaw is slowly pieced together of a "quietly spoken disciplinarian" who wanted his sons to find a "real trade" rather than become musicians, but gave them his unconditional love and a burning desire to keep the tradition alive.

Jaap also takes in the bigger picture of the brothers' bleak but happy upbringing in the Liberties tenement block in post-war Dublin, where there were "great neighbours; some rich, some poor" and a real sense of camaraderie.
In fact, the modern-looking thoroughfares of Grafton Street almost look alien when juxtaposed with the archival footage of '50s Dublin. Like the Barton brothers' dead parents, the rare 'oul times have long gone with ever-dwindling reminders and music sessions only to be found in pubs on cobbled backstreets. But even though the clock can't be turned back, traditional music, in the words of Finbar Furey, is thankfully in "safe hands".

The Barton brothers emerge from the film with great distinction and such a tale could easily be found in a Joycean short story or an O'Casey play. Dublin is haunted by its ghosts, some famous, some not, and there is certainly an opportunity here to evaluate the influence of Tommy Barton Snr on the world of traditional music.

"It is a posthumous tribute to Tommy Barton because he was never recognised by people outside his field," says Jaap. "He really was a very accomplished musician."

Jaap is planning to shoot another documentary in Ireland on the Willie Clancy Festival. When it comes to stories, Ireland's green fields provides fertile soil.