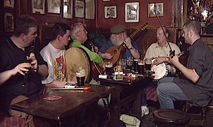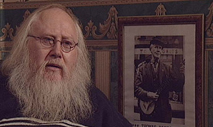 6e Dublin Film Festival: passion, warmth and knowledge
by Jaap Mees

The 16e Dublin Film Festival, took place from 20-29 th April ,was the second one programmed by passionate cinephile and Festival Director Paul Taylor. (ex BFI and ICA in London) He chooses a wide variety of films: from established war-horses like Robert Altman ('Dr T and the Women'), Claude Chabrol ('Merci Pour Le Chocolat') and Australian documentary maker Dennis O' Rourke ('Cunnamulla'), to more than thirty first feature films by new Independent filmmakers.

The Festival is according to Taylor: "a non-competitive, internationalist, audience friendly event, offering a critically based snapshot of what's worthwhile celebrating in contemporary cinema."

I was delighted to have my low-budget Independent feature length documentary "Off The Beaten Track" among this exciting, challenging package of films. The film has been shown at the Irish Film Centre for an almost full house and got a warm and generous applause. Shown in a double bill with the Irish short 'A Song and A Dance' by Irishman Andrew Baird, who also had a short 'Traum' in last year's Dublin Festival.

I saw 14 features and 17 shorts in 9 days. Here are some of the highlights:
To begin with the short films, because most filmmakers make shorts before they embark on a feature. It's probably the best way to learn about film making. 'De Aanspreker' (The Undertaker) is about an undertaker, who wants his young son to take over his profession, but the boy is scared to death by corpses. It's very imaginatively shot and skilfully made, with a gripping dark atmosphere. Belgium director Geoffrey Enthoven won several Awards for this short, including Best New Director. He works in partnership with compatriot producer Mariano VanHoof and I'm sure we will hear more from this talented duo. Another imaginative short, 'Revenge of the Red Balloon' by American Gregg Rossen, is a quirky tribute to the Lamorisse classic, shot with flair in Paris about a red gigantic balloon causing havoc. Absolute highlight among the shorts is 'Smalltalk' by Irish director Ronan Burke a beautiful blond girl is visited one night by a man-of-four-inches tall. First she doesn't quite know what to do with him, but eventually falls for his charm and tenderness. An absolute, highly original delight!

This beautiful short shows again that making short films is a genre in itself and not just producing a calling card.

Then to the features my favourite five films are in arbitrary order. One of the best is 'Vice' by American Independent John Woodward, whose first feature was, Neurotic Cabaret'. 'Vice' is about a sensual striptease dancer, played by the gorgeous Maxine Bahns from Edward Burns 'The Brothers McMullen', who is prosecuted by a group of vice police officers for " indecent exposure". This sounds like a joke, but is based on true facts. Woodward presents the court case in a sharp, to the point and very funny way. He has worked extensively as an actors teacher and it shows.

All the characters are portrayed in an utterly believable way. Vice is blessed with Hawksian dialogue, Capraesque humour and Woodwardian eye for detail.
Another inventive and authentic film is 'Manhood and other Dilemmas' by Frenchman Ronan Girre, a quirky, playful and tender first feature film.
A boy meets girl story, but not as you know it. A Gallic charmer meets his pretty city girl, Estelle Skornik from the Nicole...Papa car commercials, until she starts spitting fire… Seriously. Ronan Girre's film is light hearted and funny on the surface, but deals with real issues at the same time. Girre who wrote two sound scores for Eric Rohmer before, is definitely a talent to watch.

'101 Reykjavik' by Baltasar Kormakur from Iceland is an engaging triangle relationship film. Involved are a drifter, excellently played by Hilmir Snaer, who falls in love with a good friend of his mother, acted by the very sexy Spanish 'Almodovar' actress Victoria Abril. She has a relationship too with Hilmir's mother, to make things complicated. The plot is sometimes all over the place, but convincing acting and inventive camerawork makes you forget that.

'Reunion' is an American film in Dogma style. Made by first feature maker Leif Tilden. A class of High school students meet again for a reunion after 20 years.
Most of them haven't fulfilled their dreams they had during school time.
We see a spectrum of different types: the cool and handsome lady-killer, who meets the ugly-duckling-turned-sexy-girl and has a fling with her. Then you have the hysterical easy-cry girl who just broke up with her boyfriend and feels unloved and the decent military guy who confesses during the get together that he is gay. The most stable and sympathetic character is an easy going, friendly black guy, who embraces the neurotic girl on the front of the festival- programme and so symbolises the warmth and generosity of the Dublin Film Festival. A good choice.

That human warmth we also see in my favourite festival film Everything's
Fine…We're Leaving by French director Claude Mourieras. He is especially known for his documentaries on the arts, subjects like painter Monory, conductor Jeffrey Tate and pianist Helene Grimaud. He also made a film about the fictional meeting between Jean Genet and Alberto Giacometti. 'Everything is Fine' is his second feature, dealing with a rather self obsessed father who suddenly comes back in to the life of his three daughters, after a total absence of 15 years.

The daughters have problems enough on their own and don't really need to have their father show up out of the blue.

The three girls are played by oldest sister Miou Miou, pretty, independent Sandrine Kiberlain and hyper sensitive and beautiful Natacha Regnier, who was so wonderful in Erick Zonca's fantastic film 'The Dream Life Of Angels', another striking debut film.

Everyting is Fine has a script with depth and a perceptive and accomplished director who lets his actors shine. Above all there are some very moving scenes in this film, for instance when the father, very well played by Michel Piccoli, has lost his way and has to be taken to the house by the very upset child of one of his daughters. Ultimately that should be the aim of every filmmaker to touch people, so that that particular film will remain in your memory.

Festival director Paul Taylor deserves a long term contract (not just a 6 month one) for selecting his films with great passion and extensive knowledge. There are not many Festival Directors who are keeping an open mind and take risks in their choice of films.