Review by Jaap Mees.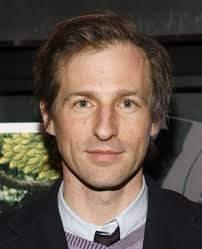 The year 2000 has started very well in cinema, with excellent films like 'Lovers of the Artic Circle' by Julio Medem, 'Wonderland' by Michael Winterbottom, 'The Insider' by Michael Mann and 'Show me Love' (real title: 'Fucking Amal') directed by Lukas Moodyson. Then comes along 'Being John Malkovich', one of the most truly original, hilarious and brilliant pieces of film making I have ever seen. This super-surreal film, Dali would have been proud of this, directed by Spike Jonze(foto) and written by Charlie Kaufman makes the emulsion of the film sizzle with delight. And more important the audience too.

It deals with Craig Schwartz, a magical puppeteer whose talents are not appreciated, played excellently by John Cusack. He lives with his wife Lotte, a charming and unglamorous Cameron Diaz, who is besotted with an adopted chimpanzee and some other pets. Craig is fed up with not being recognised as a puppeteer anymore and finds a job as a filing clerk in an office. Not an ordinary office, no a very peculiar one with a low ceiling on the seventh and a half floor, where all people are walking bend forward not to bump their heads. Here he meets the sexy Maxine, the always wonderful Catherine Keener. One day he discovers a hidden door in his office room. A corridor leads straight in to the head of ….John Malkovich. This genial idea raises numerous issues like identity, how it is to be somebody else and all sorts of gender bender matters, when both Lotte and Maxine enter Malkovich. The shrewd Maxine makes a business out of the 15 minutes journey through the John Malkovich brain.

The magical thing about the film is that it raises these existential questions in a light hearted and very comical way, in what is from the start to the finish a very entertaining movie.

This film succeeds in blending the genre of a superb art house film with vibrant entertainment.

I wouldn't say commercial entertainment, because this film is light years away from most of the predictable, lifeless, conveyor belt films Hollywood spits out every week.

Spike Jonze (1969), who got his name in a bicycle shop were he worked when he was 13, because he never took a shower. His real name is Adam Spiegel. Jonze made pop promos before he embarked on Being John Malkovich, which took him three and a half year to realise.

Some pop promo titles were Da Funk (on Punk music), 'It's Oh So Quiet', an MGM musical of five minutes on another true original the Icelandic pop phenomena Bjork and the much acclaimed 'Praise You' on Fatboy Slim.

A lot of praise should also go to screen-writer Charlie Kaufman, who came up with this ingenious idea to enter John Malkovich's head via a portal. The acting is top notch, with a charming, absent minded John Cusack as puppeteer Craig, the gorgeous super slim and wicked Catherine Keener as Maxine and the sweet and believable animal loving Cameron Diaz as Lotte.

Much is made out of the lack of communication skills in the media of Spike Jonze, who is married to Sofia Coppola, the daughter of maestro Francis Ford Coppola. He will be happy with a new exiting film talent in the family.

But what else is there to say when you make a wild, wacky and wonderful film like BEING JOHN MALKOVICH.