review by Jaap Mees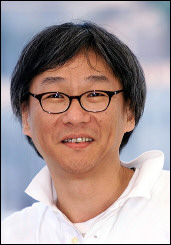 Taiwan produces very talented filmmakers. Most people know Ang Lee
especially after "Crouching Tiger, Hidden Dragon." Another good filmmaker is Hou Hsiao-Hsien who made 'Flowers of Shanghai'. And now there is writer/ director Edward Yang(1947) who made the marvellous film "A One and a Two", also called Yi Yi, this delicate picture won rightly the Best Director Award in Cannes last year.

Before 'A One and a Two', Yang made six features among them "A Brighter Summer Day (91) and Taipei Story (85). Yang worked as an computer engineer in Seattle for seven years before working on the screenplay of Yo Weizheng, a fellow student. Then he worked on a two part film for Taiwanese television called 'Eleven Women'. He had given up film making after studying at the USG film school for only a year. After seeing Werner Herzog's film 'Aguirre, Wrath of God' he returned to film.

'A One and A Two' deals with a family in Taipei. The film opens with a wedding and ends with a funeral. In between we get to know NJ Jian (Wu Nianzhen), a man in his mid forties who works for a computer firm, which has seen better days. He is married and has two children Ting Ting (Kelly Lee), a teenage daughter and a boy, Yang-Yang (Jonathan Chang), of eighth . His mother in law collapses and is in coma for most of the film, her doctor asks the family to talk to her to keep her mind alive. At the wedding NJ meets a former girlfriend, who is now married to an American, but still has feelings for NJ. We follow the lives of this family and Yang spent enough screen time with all of them to really care about their lives. He observes them beautifully and both in his writing and directing he shows a great sense of nuance, compassion and generosity towards his characters, who are real people with flaws, insecurities and humour.
Especially the boy Yang Yang is very funny in a deliciously subversive way. He takes photos of the back of peoples head and photographs mosquitoes in the house. He prefers junk food and is not so keen on traditional Taiwanese meals.

The quiet and shy Ting Ting is not very happy in her relationships, in contrast to her friend Lili Jiang next door, who changes her boyfriends like clothes.
Edward Yang often keeps his camera on a certain distant from the action, he doesn't like to use the close up too often and so leaves the choice of what to watch to the audience. He moves the camera as little as possible and creates in this way a strong and contemplative mood with his carefully framed shots. Often you just see the characters from behind, walking in the streets along beautiful trees.

A One and a Two is not for everyone's liking, the film last about three hours,
but when you open your eyes and senses, it gradually builds up to a mesmerising tapestry of modern life. Often I feel a certain distance with Asian films, but not with this one, because Edward Yang's humanity shines through every frame.

Film is a delicate, magical medium and I wish there were more graceful filmmakers like Edward Yang, who understands this. He deserves a much wider audience than just to be released by the ICA Projects. By the way, the ICA's film choice has improved enormously since the arrival of programmer David Sin, another refined soul.