Contemporary British and Irish film Directors (published in December 2001)

JAAP MEES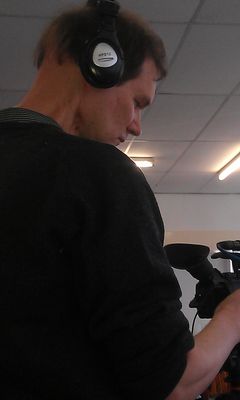 Born in Rotterdam(Holland), Jaap Mees moved to England in 1989 to study writing and directing at the London International Film School. His first two films there were about Jewish humour (The Importance of Being Mild) and beauty (The Royal Swan). Matriculating in 1992, Mees' graduation work Deeply Estranged from Myself and My Own Song), was a semi-autobiographical short, following the love between a violinist and an alienated man spiritually recovering from Hodgkin.

In 1998 Mees set up Free Spirits Film Productions dedicated to "quality, passion and integrity". Under this banner he has directed a series of short documentaries (progressing from SVHS to DV, via H8 and Betacam), his preferred method being to choose an individual and let them speak for themselves. A favourite with audiences has been The Singing Conductor (1996) about Londoner Baysee Rowe, a part-time recording artist, who entertains and embarrasses passengers by singing aloud on his daily bus round. Rainbow Days recorded the 1997 annual festival of that name (set up in 1994, after two notorious race murders in London), in which music and culture from around the world are brought in to local schools to promote racial understanding. Mees then returned to the theme of humour with Are You Feeling Funny? (1998).

Most of Mees' films have featured musicians. His longest to date, Off The Beaten Track (2000), is a documentary about Dublin banjo player Tommy Barton, who died in 1972. The project was co-produced by Tommy's son, Billy, whose journey to Dublin from his hometown of Manchester forms the spine of the film. Mees includes background on the Irish "folk revival" of the 1960s and provides a clip of Barton's one cinema appearance (in a film called O'Donoghues Opera (1965), intercutting all this with many talking heads, including local music historian Harry Bradshaw and Ronnie Drew and Barney McKenna from The Dubliners. Evincing Mees' love of traditional Irish music, it was selected for festivals in Dublin, New York and London.

Among other projects, Mees is currently working on a documentary about wood sculptor Ben Wilson and a feature length script entitled This Dream Called Life.

Keith Perry

Second Wallflower Film Guide in the series, the first was a Critical Guide to North American Directors. Will be followed by European Film Directors and World Cinema Directors.
The Wallflower Film Guide lists 350 recognised British and Irish film directors, both established and new filmmakers.