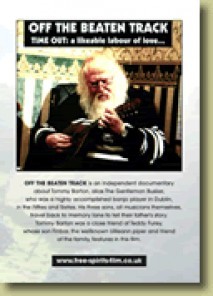 Free Spirits Film Production,
Full color, 65 minutes.
In the summer of 1999, Dublin Rogues lead singer Billy Barton returned to Ireland on a sort of pilgrimage dedicated to his late father, the "Gentlemen Busker" Tommy Barton. The film travels back and forth between Billy and his father's story and what has come out of the rich traditional music movement.
He traces his father's musical footsteps in direct interview, voiceover commentary and interviews with others in the early traditional music scene such as Paul Roche from Stockton's Wing, Alan Kelly from Barley Shakes, legendary piper Finbarr Furey, and The Dubliners members Ronnie Drew and Barney McKenna.
There are many wonderful pub sessions included and an equal number of terrific shots of Dublin in the "rare aul' days." This is an authentic and inspiring film, full of social history, and musical and personal heritage.
Camera: Koutaiba Al Janabi
Sound: Tom Theakstone and Paul Dani
Editor: Philip Tuppin
Diector: Jaap Mees
Producer: Free Spirits Film productions.
65 minutes.https://www.amazon.com/Off-Beaten-Track-Billy-Barton/dp/B004IHCJX2/ref=sr_1_6?s=movies-tv&ie=UTF8&qid=1542645035&sr=1-6&keywords=off+the+beaten+track
Te huur en te koop op Amazon.com Prime Video (zie link)