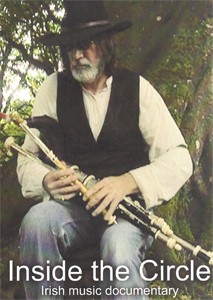 Inside the Circle: A Documentary Music Film (DVD) - Jaap Mees
The Willie Clancy Summer School is held annually in County Clare, Ireland. It is a living tribute to the legendary uilleann piper Willie Clancy. Thousands of musicians from over 40 countries gather annually to continue the authentic and lively oral Irish music tradition.
The film has a genuine and raw energetic quality to it. It focuses on seven top musicians, including internationally renowned fiddle player Martin Hayes, uilleann pipes legend Paddy Keenan and concertina virtuoso Noel Hill, along with new young talents like Zoe Conway and Sean McKeon.
Camera: Matt Skinner
Sound: Jim Corcoran
AD: Joan Lluis Ramisa
Editor: Simon Boyd
Director/producer: Jaap Mees
53 minutes.
Zie trailer Homepage